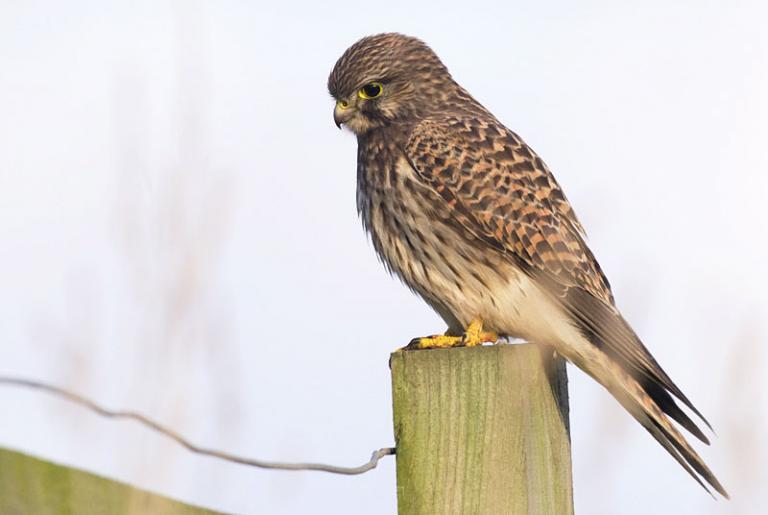 Hello,  I have now started doing bird counting up at RSPB Campfield Marsh which has been fantastic so far.
Campfield and Rogersceugh are looking particularly brilliant at the moment with the new scrape and screen now finished and looking great up at Rogersceugh.  Unfortunately the weather was well against me on my first count and the freezing temperatures coupled with high winds made using even a scope firmly sat on a tripod a bit too unsteady.  However, it all proved worth it and by the end of the Rogersceugh side I had seen;
2 roe deer
50 teal
1 hen harrier
3 red wings
5,000 geese (with a nice split of pretty much 2,500 barnacle geese and 2,500 pink footed geese)
Plus of course the usual dunnock, robin, blackbird and carrion crow visitors.
My favourite species of the day was the kestrel though, he made sure I had seen him several times and almost seemed to be following me around. He showed me his hunting techniques first a very good hovering technique and then a beautiful dive but unfortunately missing whatever morsel he had spotted.
I then moved down from Rogersceugh to the hide near the main Campfield centre.  Unfortunately the light was just not right for counting so I could only get a very rough idea of what was around but a small number (probably about half of the 5,000 strong group I saw) had headed down from Rogersceugh to the settle in front of the hide. It was again a good mix of pretty much 50/50 barnacle and pink footed.  At the hide I could just make out the rather punk like outline of the lapwings (around 50 or more of those) along with at least 50 wigeon and probably well over 100 teal.
My next count proved to be a bit of a disaster there were no geese at all. I did still see a couple of deer and a few other birds but nothing of note. I will be out again this week for my third count.  Fingers crossed it's a good one again.
Rhia