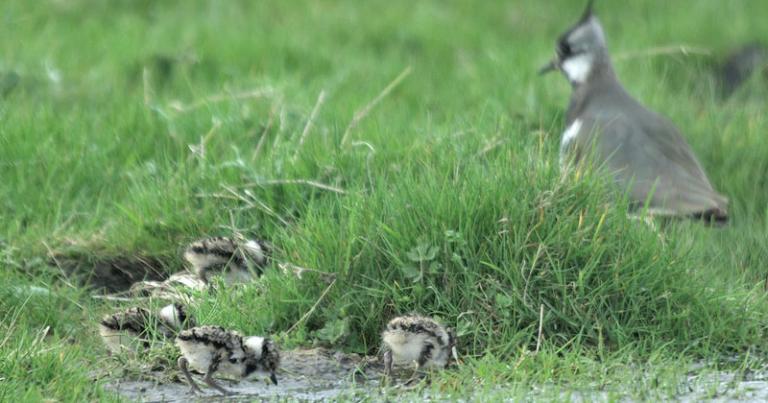 Traditional farming practices on the Solway Plain create a mosaic of habitat for wildlife
What is it?
Farming is a key part of the Solway Landscape, both culturally and historically. In many places farming goes hand in hand with providing for wildlife. The low lying, wet valley landscapes within the Solway plain provide nesting and wintering sites for a range of wetland and farmland birds.
Why is it important?
Wet grassland is one of the most rapidly diminishing wetland types in Britain, with large area of land drained to increase its agricultural value. Wading birds rely on the damp soils, open pools and muddy hollows for feeding and rearing young chicks during the Spring. The loss of wet grassland habitat has led to dramatic declines in wading birds such as Lapwing and Curlew, however, the Solway remains an important refuge for these declining species.
How is it managed?
Traditional farming, either light cattle grazing from Spring to Autumn, or a late summer hay cut, provide ideal conditions for nesting birds. The ditches that were used to drain the land are now being controlled to hold water back onto the land during Spring, creating a patchwork of shallow pools and wet ditches.
Over winter, as some areas become inundated with water, these wet grasslands provide refuge and feeding grounds for grazing and dabbling wildfowl such as the widgeon and teal which migrate to Britain from the frozen north of Europe and Iceland.
Wildlife Highlights!
In Spring and early summer wading birds like lapwing and redshank will breed on open, wet grasslands.
Smaller songbirds like reed bunting and sedge warblers will breed amongst the tall growing rushes.
Open pools are home to an abundance of dragonflies and other insect life, providing an important food for developing chicks.
In Summer, enjoy the colour within traditionally managed hay meadows. As well as being a key nesting habitat for Curlew, these grasslands contain a diversity of wild flowers such as Marsh Orchids, Marsh Marigold and ragged robin, specialists of wet meadows.