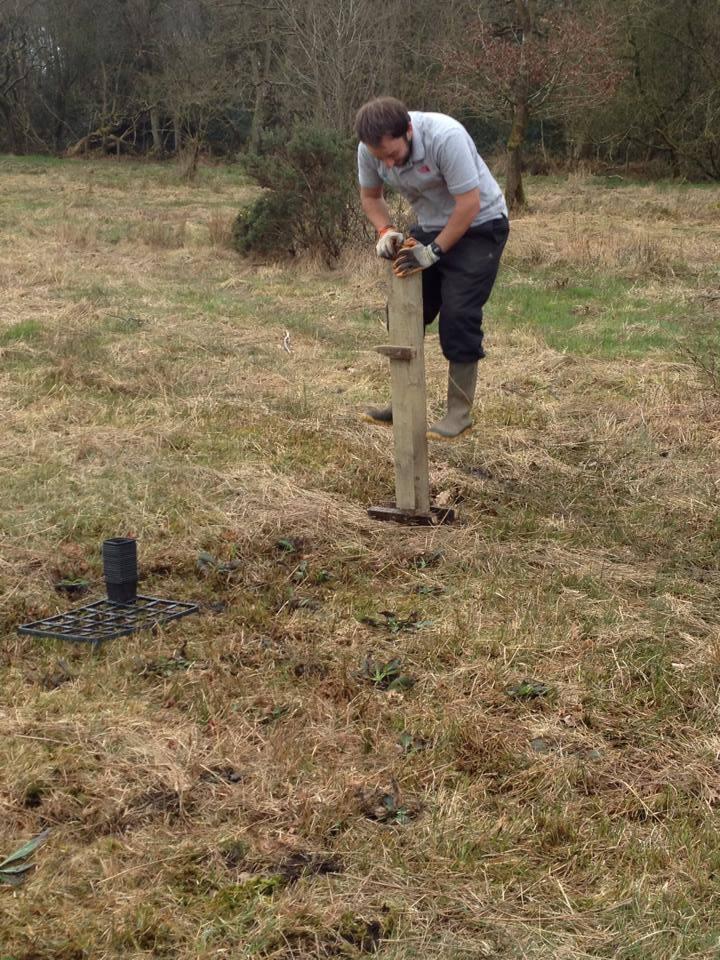 Some lung busting efforts have gone in over the last week from staff, project partners and volunteers to help plant a little known but much maligned meadow flower called Devils-bit Scabious. A big thank you to all who have been involved, both at Cumbria Wildlife Trust's Orton Moss Reserve and Finglandrigg Wood National Nature Reserve. Devils-bit Scabious, or just Scabious for short, is a wild flower that grows in damp, marshy grasslands which has largely disappeared from our landscape since the end of the Second World War.  Apart from being a beautiful blue wildflower it is also an important food plant for the rare Marsh Fritillary butterfly.  The Marsh Fritillary, once extinct in Cumbria, is now back in the Solway after a release at Finglandrigg Wood in 2007.  It remains the only place in North Cumbria where you can see the beautiful orange speckled butterflies living wild.  The Solway Wetlands, along with Butterfly Conservation, Natural England and Cumbria Wildlife Trust are working to improve the conditions for these endangered insects.  Marsh Fritillaries lay their eggs (up to 300 in a batch!) on Scabious plants in late summer and the dark green, fleshy leaves provide food for the growing caterpillars.  By planting these scabious plugs in lots of places around the Solway we are ensuring that there is plenty of suitable habitat for the butterflies to spread into. The aim is to create several separate but connected groups of butterflies across the Solway.  This will reduce the risk of once again losing the butterfly from Cumbria, so even if one group got hit hard, for example by disease or flooding, there would be another group close by that would move back in and re-populate the area.
With 6000 scabious pot plants, all needing to be dug and bedded in, there was slight concern that we had bitten off more than we could chew, however, after about 500 repetitions we had mastered the art and even developed some novelty tools for the job.  A few eyebrows were raised when I entered the office with a 5ft fence post and claimed to have solved our planting problems but it seemed to do the job and kept the crowds entertained as I jumped up and down on the footholds.
We had another successful day of planting on Sunday and were even lucky enough to see some of the Marsh Fritillary caterpillars at Finglandrigg Wood, having just emerged from their winter hibernation.
With over 5000 scabious plugs already planted, we are (thankfully!) almost finished, but we do have one session of planting still to go.  If you would like to get involved and do your bit to help conserve one of Britain's rarest butterflies then check out our events page for more details.
Dave