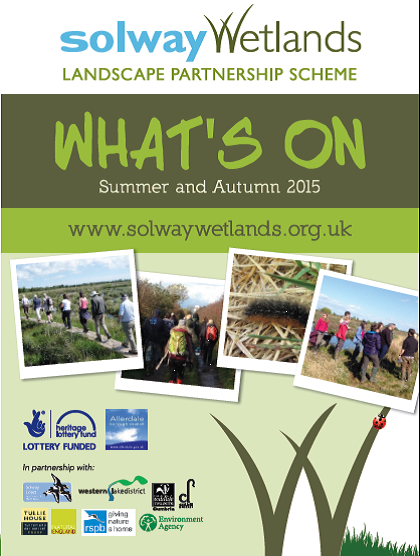 Well, it is nearly the end of May already, where has the year gone?
On a positive note we have been very busy in Solway Wetlands HQ.  Our events leaflet is just about to be printed so keep an eye out for it when you are out and about.  All our events are on the website too http://www.solwaywetlands.org.uk/events and will be promoted through our Facebook and Twitter accounts (see below for links).
We have a real range of events in 2015 from Bats and Moths (13th June) to Landscape Photography (15th August and 14th November) and Wild Food Foraging (27th June and 26th September).  Have a look and see if there is anything which interests you, hopefully there will be and we will see you along at one or more events.
The team have also been getting on with other bits of our project such as pond creation at Kirkbride School, reinstating sandstone gate stoops as well as developing our Family Discovery Zone at RSPB Campfield Marsh among many other things.  You will hear more about these as the year progresses and the team do blog updates.  In the meantime if you do have any questions about our project or suggestions for events please do get in touch, it is always nice to hear from you.  You can contact us via the website http://www.solwaywetlands.org.uk/contact by e-mail info@solwaywetlands.org.uk or by phone on 016973 33055.
I have been in the office getting ready for the new financial year, I know how to have fun! I have new files ready and may even get to the bottom of my 'To Do' list at some point!!  I am trying to keep you all updated by posting on Facebook and Twitter  and we also have a Flickr account, see below for links to all of these:
Facebook: www.facebook.com/solwaywetlands   
Twitter:      www.twitter.com/solwaywetlands
Flickr:       www.flickr.com/photos/solway_wetlands/albums
Right, I had better get back to work now!
Vicky