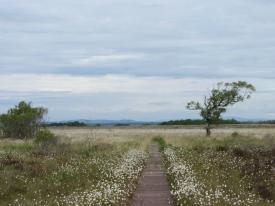 Get off the beaten track by following the wooden boardwalk over Bowness Common peat bog, arriving at Rogersceugh Farm, perched atop a glacial drumlin and with fantastic views across the Solway and the Lakeland fells.
Distance:5 kilometres/3 miles
Start and finish:Solway Wetlands centre and Campfield Marsh, Bowness on Solway (CA7 5AG)
Route: Trail leaflets and information boards are available at the Centre.
An 800 m trail on a flat solid surface leads from the car park to the bird hide, passing viewing screens on the way. The trail continues for 1.5 miles (2.5 km) across fields and peat bog to Rogersceugh Farm. There are four stiles and some wet and uneven sections, though the wettest parts of the peat bog are traversed by recycled plastic boardwalk. From here, head back to the car park or follow the route onwards to Bowness and then back along the saltmarsh to the car park, a round trip of 7 miles (11.5 km).