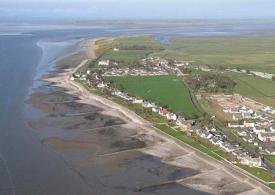 The Solway Coast is designated as an Area of Outstanding Natural Beauty or AONB. Beginning at the Solway Coast Discovery Centre in the town of Silloth, follow this trail to understand why this area is so important and enjoy beautiful views along the shore.
Start and finish:Solway Coast Discovery Centre in Silloth
Route: Follow the Cumbria coastal path along the shore up onto Grune Point.
The Solway Discovery Centre provides a wealth of information about the heritage and wildlife of the Solway Coast. From the centre in Silloth, this route sets out along the coast and onto Grune Point. This long spit of land sticks out into the Moricambe estuary and has been formed by longshore wave action, accumulating sand and gravel over time. It is a great place for rare plants that have colonised the sand dunes, it also home to a colony of Natterjack toads, one of Britains rarest amphibians. This spit of land shelters the inshore estuary allowing the formation of extensive saltmarsh and mudflats, great for birds (and bird spotters!).