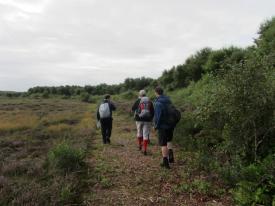 Explore this wetland paradise with this new set of trails and boardwalks. Glasson Moss is one of a patchwork of raised peat bogs that have accumulated over many, many years. In places the peat can be 10m thick, with the deepest peat formed over 8000 years ago!
Distance:2.5 km/1.5 miles
Start and finish:Small Glasson Moss layby on the right hand side of the Kirkbride to Bowness-on-Solway road, grid reference is NY 230 602
The gravelled parking layby leads to a path that heads south to the Kirkbride to Glasson Road. The path takes you around the edge of the Moss and a loop takes you out onto the Moss itself. As you walk along you will find evidence of restoration work which has been undertaken to restore damaged bog (peat extraction for the horticultural trade) and turn it into active peat forming bog. This is a very wet section of bog so wellies are advised. You can also access the Moss from another layby on the Glasson road at NY239593.