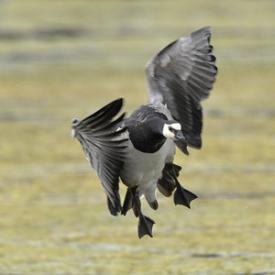 The Solway coastline is fringed by tidal flats and saltmarsh, created from layers of sand, silt and mud left behind by retreating tides. The saltmarsh contains lots of rare plants, specially adapted to survive the salty water brought in during high tide. Traditional cattle and sheep grazing keeps trees and gorse in check, and saltmarsh lamb is a local delicacy. Arrive during summer as a sea of flowering thrift turns the marshes pink.
Highlight:
Thousands of wading birds and wildfowl spend their winters on the Solway estuary, including the Svalbard barnacle goose population, numbering about 30,000! As the high tide rolls in, the birds are pushed up onto the saltmarsh in huge numbers called 'roosts', a good time to get the binoculars out and open the bird guide.
How to get there:
Saltmarsh is scattered around the Solway coast. Burgh Marsh, immediately west of Burgh-by-Sands and Campfield Marsh, west of Bowness-on-Solway, can easily be explored by parking in one of the many roadside laybys. Adventurous folk could try a walk over Skinburness Marsh near the town of Silloth. Park in Skinburness Village and follow the Cumbria Coastal Path onto the Marsh. However- BE AWARE, these marshes are tidal and some areas can be cut off by the rising tide.