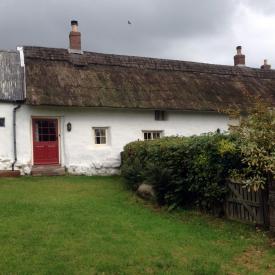 The picturesque village of Burgh is a great place to see a characteristic feature of the Solway landscape heritage- 'clay dabbin' buildings. The Solway being underpinned by soft boulder clay made it very difficult to find building materials, so many local buildings were made from dabbin- basically a frame made from wood covered by clay and sometimes pebbles or cobbles, and often thatched. Take a stroll around the village and look out for some of these interesting structures.
Highlight:
Visit St Michael's Church, 12th century fortified church offering protection against the Scottish raids. The body of King Edward I, 'Hammer of the Scots', who died on Burgh Marsh in 1307, lay here before being taken to London. A small exhibition in the tower tells you all about the history of the building at this turbulent time
How to get there:
Follow the main road between Carlisle and Bowness-on-Solway and the road leads right through Burgh-by-Sands.