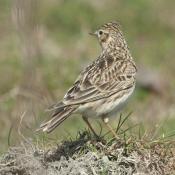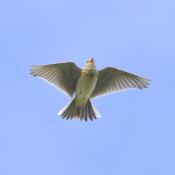 Found all over the UK all year round, however within the Solway Firth area they favour both Raised Mire and Wet Grassland. When on the ground, Skylarks are generally inconspicuous; they become easier to see when rising in their distinctive song flight.
A Skylark is a small, streaky, brown bird, sized between a sparrow and a starling. It has a crest on it's head which is raised in excitement or alarm and white sides to the tail and edges to the wings.
The Skylark is renowned for it's display flight: flying vertically upwards whilst singing. Despite almost iconic status, the Skylark has suffered over 50% declines in the past 25 years, making it a species of high conservation concern.