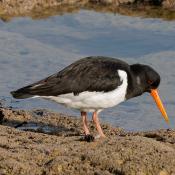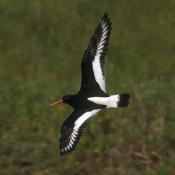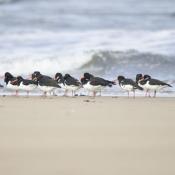 This ubiquitous bird of the Solway Coast, featuring on the Coast's AONB logo, can be found both on wet grassland and salt marsh. It is a resident wader, breeding not only on the coast, but also further inland, in more urban environments.
Both male and female are identical, with reddish-pink legs and long red-orange bill. It is a stocky, black and white bird, when flying it displays a broad white wing stripe, black tail and a white rump which extends into a 'V' shape between the wings.
Despite the name, the Oystercatcher's main diet is Cockles and to a lesser extent, mussels. Because of this, the population becomes vulnerable if cockle beds are overexploited.