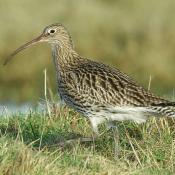 Best seen on coastal habitats from late Summer, through Autumn and Winter. Can be found in breeding habitat, wet grassland and upland moors between April and July.
Tall, brown mottled wading bird with downturned long beak.
Distinctive 'Cur-lee' display call, which gives the bird its name can be heard from February through July.